Bringing the Parkinson's disease treatment to the next level
Parkinson's disease is a progressive neurological disorder that affects the senses and hence, the movements. Gradually develops with time, sometimes it just starts with minor barely noticeable tremors. But sadly, these minor tremors are the most well-known signs of this chronic neurodegenerative disorder that causes slowing of the movement.
Parkinson's disease has affected over 10 million people globally. Symptoms of this neurological disorder appear very late, mostly after the onset of the disease. Men are more likely to develop Parkinson's disease, mostly after the age of 50. If we particularly talk about India, there is a large population of senior citizens, susceptible to this disorder.
Symptoms:
No facial expression
Depression and anxiety
Drooling
Hallucinations
Slow blinking
Difficulty in swallowing
Tremors
Loss of fine hand movements
Memory loss
Aches and pains
Stooped posture
Problems with balance while walking
Even after a lot of research and development for the Parkinson's disease treatment, this neurodegenerative disease is growing day by day. If we see the most populous countries of world, China has the highest number of patients with this chronic disorder of the brain.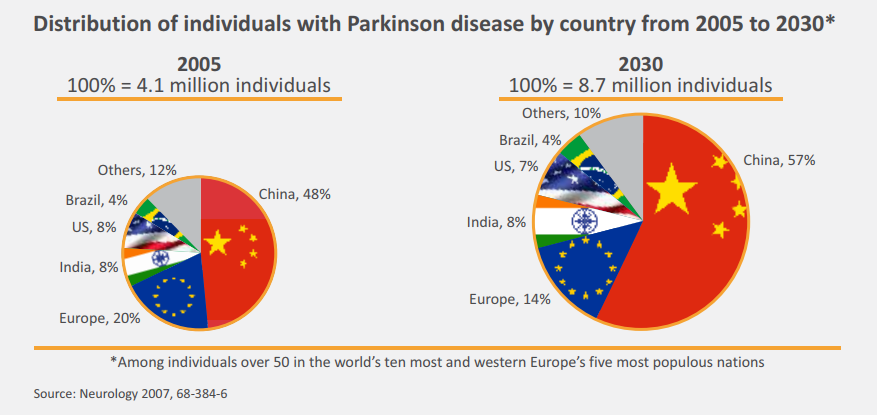 Treatment:
Scientists across the globe have done research for the Parkinson's disease treatment and developed some drugs to improve the condition. However this neurological disorder can't be cured completely, medications may just markedly improve the patient's symptoms.
La Renon is one of the top pharmaceutical companies in India, active in multiple divisions such as Nephrology, Urology, CNS (Neurological Disorders), Critical Care, Gastroenterology, Respiratory and Cardio Metabolic. Our CNS division is one of the fastest growing CNS segments of the country. With more than 60 products in the basket with more to be added, we cater to the diseases as severe as stroke, Epilepsy, Alzheimer's, Parkinson's, Schizophrenia, Neuropathic Pain, Major Depressive Disorder and Borderline Personality Disorder.
We have developed Pexopram® for Parkinson's disease treatment which contains Pramipexole Dihydrochloride. Available in 0.125 mg, 0.25 mg, 0.5 mg and 1.0 mg tablets, Pexopram® is developed after the in-depth clinical research. When added to a stable anti-parkinsonian medication, Pramipexole doesn't only work entirely as an anti-parkinsonian agent with respect to improvement in ADL or UPDRS motor scores but also leads to a statistically considerable reduction in parkinsonian tremors.
Know more about the Parkinson's disease treatment and Pexopram®.